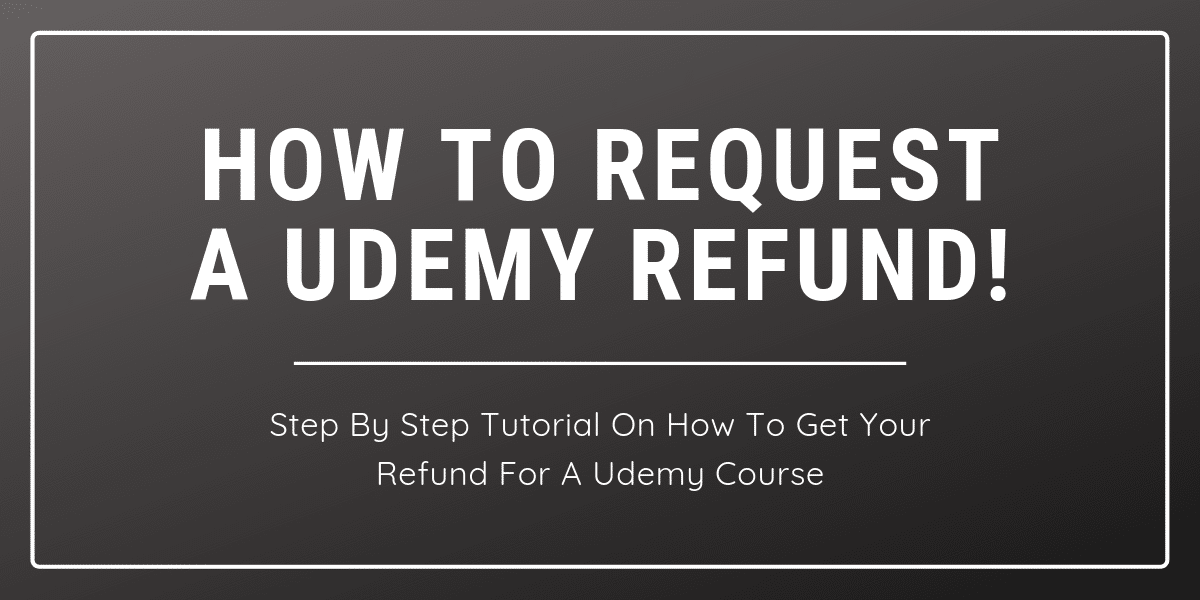 How do you request a refund for a udemy course?
In this post, I will guide you through the steps to initiate a udemy refund for a course that you are not satisfied.
Udemy always wants students to be convinced and as well satisfied, thus almost all training courses bought on Udemy could be refunded within just a month.
Please be aware, nevertheless, the fact that refunds may only be initiated for those udemy courses bought within the Udemy platform or website or perhaps the Android application; any specific training courses purchased throughout a 3rd party websites or maybe one of the iOS apps is definitely not qualified to get refunds; [please follow the article for additional information about refund limitations].
In the event that you're unsatisfied with a udemy course that you have recently enrolled in, and you are planning to initiate a full refund, you have two options to request refund for a specific udemy courses, you can contact the udemy support through their contact support form, or you can request a refund from the dashboard of that particular course you want the payment to be refunded.
How to request a refund from the course dashboard?
VISIT THE UDEMY COURSE AND COPY THE URL
CLICK THE OPTIONS MENU ON THE RIGHT BELOW THE COURSE PROGRESS BAR
NOW CLICK ON REQUEST A REFUND
NOW SEND OUT A SUPPORT TICKET THROUGHOUT THE UDEMY CONTACT SUPPORT FORM AND ALSO INCLUDE YOUR UDEMY COURSE URL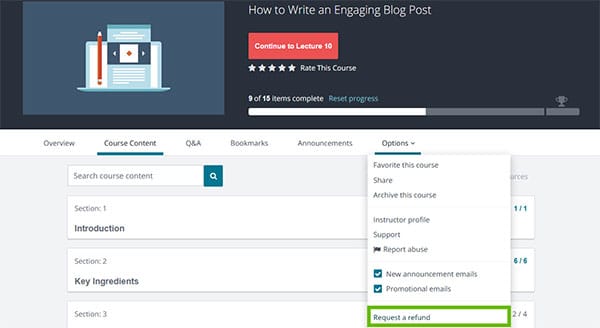 All of the refunds will likely be sent back through the credit card you have used during the purchase of the course or perhaps your PayPal accounts.
Please keep in mind that purchases made through the iOS applications cannot be refunded at all.
Why are the refund requests getting rejected?
While the udemy's 30 days refund policy is definitely in a position to help protect the udemy students, they also have a strategy to preserve the udemy instructors from scams/fraud and as well, offer a reasonable payment plan.
Payments will be sent to udemy instructors after 30 days, so therefore udemy will certainly in no way process refund requests once the refund limitations have been reached.
Please also take note that if the course videos and materials were downloaded before requesting a refund for a specific udemy course, in that case, the refund request might end up being declined and rejected.
At last, udemy students who purchase the courses and then simply ask for refunds for multiple udemy courses and they repeat this method many times will result in account suspension for the abuse of the refund policy of udemy.
What is the refund policy for bundles purchased using third party platforms?
If you bought the udemy course by using a 3rd party merchant, sadly, udemy is not able to process the refund.
Because udemy did not process the initial payment, they do not have the purchase record with them, and therefore they cannot initiate the refund.
In that case, you have to contact the 3rd party supplier straight and ask for a refund.
Why are the mobile and iOS purchases not refundable?
It is because the purchases you have made by using the iOS mobile application may not be refunded.
Using the iOS application for purchases, payments are processed by Apple, and thus, udemy cannot help you refund the course.
In that case, if you expect to receive a refund, you may contact the Apple support directly and request a refund for your specific course.
How long does udemy refund take to reach your card?
Udemy refunds are generally processed within 3 to 15 business days; it means you can expect the payment to be added to your credit card within 3 to 15 business days.
Those students that are enrolled in udemy courses with a 100% off udemy coupon are not eligible for any refund, because he/she may be enrolled in the class with a free coupon code and those are not refundable in any manner.